Upcoming
---
June 2022: New visiting chair of Indian Studies
The University of Alberta and the Indian Council for Cultural Relations (ICCR) have partnered to create a new Chair of Indian Studies. The agreement was signed in May 2022 during a meeting between U of A's President and Vice-Chancellor, Prof. Bill Flanagan and His Excellency Ajay Bisaria, High Commissioner of India to Canada in Ottawa.
Click here for further details.
Announcement:
Canadian South Asian Studies Association 2020 Call for Papers
The Canadian South Asian Studies Association (CSASA), a non-profit scholarly association newly affiliated with the Canadian Federation for the Humanities and Social Sciences, invites proposals for a one-day programme at the Annual Congress meeting, to be held this year at Western University (London, Ontario) on 5 June 2020. Please see below for full details.
Eligibility: Proposals will be accepted from colleagues and advanced graduate students who meet the eligibility requirements for CSASA membership until 23 March 2020. Membership in CSASA is open to scholars actively researching and teaching in Canada in academic fields related to South Asian Studies in global perspective. CSASA welcomes student members currently enrolled in Canadian Ph.D. and M.A. programmes relevant to South Asian Studies. Active CSASA membership is not required to submit a proposal; however, all those whose proposals are accepted are required to become members of CSASA by 31 March 2020.
Please kindly forward this announcement to any interested colleagues. For any questions about the CFP, please contact either Karen Ruffle or Andrea Pinkney. Queries about CSASA membership, or joining the CSASA-L listserve may be directed to (csasa-l-owner@athabascau.ca).
Best wishes,
Karen Ruffle, University of Toronto
2020 Congress Programme Co-Chair
(karen.ruffle@utoronto.ca)
Andrea Pinkney, McGill University
2020 Congress Programme Co-Chair
(andrea.pinkney@mcgill.ca)
_______________________________________________________________
2020 Congress: 5 June 2020
Canadian South Asian Studies Association
Call for Papers
For CSASA's inaugural meeting, we invite individual paper submissions, and fully formed panel submissions that explore a shared theme or methodology related to the languages, literatures, politics, histories, religions, and peoples of South Asia in global perspective. Creative presentation formats are strongly encouraged. Full panel submissions should consist of three or four presenters, with a moderator, and a respondent; individual paper proposals that are accepted will be matched with other thematically-related submissions. We suggest the following four themes for proposals, and also warmly welcome exploratory paper and panel proposals based on CSASA members' research interests—
Understanding South Asia via Canada
What links South Asia and Canada? We invite colleagues to submit individual paper proposals, as well as fully formed panels, on new research trends exploring relationships between Canada and South Asia. Individual proposals and panels that represent a diversity of views from South Asian Canadian communities are especially solicited.
South Asia in Global Perspective
Study of South Asia offers a valuable lens to engage with complex issues in our globalised world, in historical and contemporary terms. We invite colleagues to submit individual paper proposals, as well as fully formed panels, on new research that focuses on South Asia in global perspective. Individual proposals and panels that represent a diversity of views from South Asian nations, religions, peoples, and languages are appreciated.
Emerging Research in South Asian Studies
We invite individual paper proposals and fully formed panel proposals on new research related to South Asia, as conducted by our Canada-based members. For this theme, we hope that CSASA can help deepen connections between colleagues working in Canada on related research themes, and foster new lines of collaboration. Submissions from advanced Ph.D. students are encouraged.
Roundtable Session: Study of South Asia in Canadian Academic Contexts
We invite individual paper proposals that reflect on our positionality as scholars of South Asian Studies in Canada, and the challenges and resources available to us thereby to teach and research in Canadian academic contexts. This session will be followed by a general planning meeting where members can share suggestions and ideas for CSASA to serve the needs of our community in the years to come.
Length and Deadline: Individual proposals should be a maximum of 350 words. Panel proposals should include a thematic panel abstract (250 words) and individual presentation proposals (250 words). Complete proposals should be emailed to the administrators of the CSASA-L listserv (csasa-l-owner@athabascau.ca) by 5pm EST on Monday, 23 March 2020. Notifications will be sent as soon as possible after the deadline so that CSASA members can register for Congress before the early-bird registration rate expires, on 31 March 2020.
_______________________________________________
CSASA-L mailing list
CSASA-L@athabascau.ca
https://mailman.athabascau.ca/mailman/listinfo/csasa-l
Past
---
New Publics and the Common Man in Bollywood Cinema
Professor Ulka Anjaria, Brandeis University
This movie will be discussed as part of the talk.
Wednesday 20 November, 2019 | 3:30pm
Salter Reading Room, Humanities Centre 3-95
---
Thursday, October 24, 2019, 4 PM, Room: Tory 2-58
Rewriting Religion & Rescuing Genre: The Evolution of Texts, Gods, and Peoples in the Sanskrit Purāṇas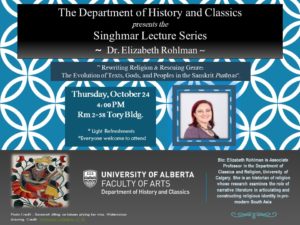 Guest Speaker: Dr. B. Rohlman
Please join the Department of History and Classics in presenting a special guest speaker hosted by the Singhmar Lecture Series.
Elizabeth Rohlman is Associate Professor in the Department of Classics and Religion, University of Calgary. She is an historian of religion whose research examines the role of narrative literature in articulating and constructing religious identity in pre-modern South Asia. Her current research examines the evolution of the Sarasvatī Purāṇa, a Sanskrit text composed, and re-composed, in the western Indian region of Gujarat beginning in the twelfth century. Upcoming research projects include a literary study of the Mārkaṇḍeya Purāṇa and an exploration of the jati purāṇas of Gujarat.
Thursday, October 24, 2019
4 PM
Rm T 2-58
*Light refreshments will be served
*Everyone welcome to attend
The Sanskrit purāṇas—roughly "myth" or "history"—have confounded scholars of Indian literature for millennia. The language used to describe Purāṇas in academic literature and, indeed, in the Sanskrit purāṇas themselves, seems more appropriate to a poorly behaved child than a work of literature: Purāṇas are ungainly. They are disorganized and untidy. The fail to follow their own rule. They repeat themselves ad nauseam. The purāṇas would simply be better if they could only attain the refined language and sophisticated content of the great and celebrated genres of Sanskrit literature.
But what would happen if we reimagined the Purāṇas' many flaws as features? I argue that the Purāṇas are a genre that uniquely values compositional process over form or content. And once the genre is reclaimed, a new understanding of the evolving nature of religious identity in pre-modern India becomes possible.
---
You are invited to a public talk this Thursday 7 Feb 2019 at 4:30pm in Tory 2-58.
Peter Robinson, University of Saskatchewan, will speak on
Textual Communities: A Platform for Collaborative Scholarship on Manuscript Heritages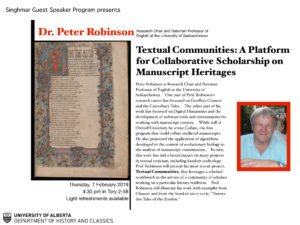 Peter Robinson is Research Chair and Bateman Professor of English at the University of Saskatchewan. One part of Prof. Robinson's research career has focussed on Geoffrey Chaucer and the Canterbury Tales. The other part of his work has focussed on Digital Humanities and the development of software tools and environments for working with manuscript corpora. While still at Oxford University, he wrote Collate, the first program that could collate medieval manuscripts. He also pioneered the application of algorithms developed in the context of evolutionary biology to the analysis of manuscript transmissions. In turn, this work has had a broad impact on many projects in textual criticism, including Sanskrit codicology. Prof. Robinson will present his most recent project, Textual Communities, that leverages a scholars' workbench in the service of a community of scholars working on a particular literary tradition. Prof. Robinson will illustrate his work with examples from Chaucer and from the Sanskrit story-cycle, "Twenty-five Tales of the Zombie."
---
The Canadian Centre for Ethnomusicology cordially invites you to a lecture-workshop:
Composition and Arrangement in Indian Music, by Mr. Praveen D Rao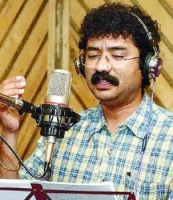 Visiting composer from India, Mr. Praveen D. Rao will be giving a lecture and conducting a workshop on how to compose and arrange Indian music. Mr. Rao is one of the most popular and sought after music directors in India. He has composed music for scores of Indian movies, TV shows and Dance ballets and traveled across the world composing and arranging music in different genres such as Indian classical music, Indi-pop, Indian Jazz, Bollywood, Bharatanatyam, Kathak etc. He has acted in numerous TV shows and movies in lead and supporting roles. You can bring your instruments (both melody and percussion) or sing or just be there to take part in the creative process.
Date: Thursday, 31st May, 2018
Time: 1:30 – 3:00
Venue: Studio 27, Fine Arts Building (map)
All are welcome. Free of charge.
With thanks to Dr. Deepak Paramashivan for arranging this opportunity.
---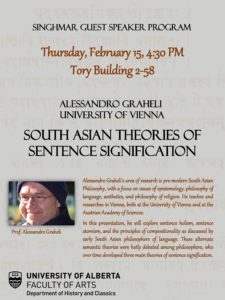 The philosopher Dr Alessandro Graheli will visit the University of Alberta in early Feb 2018. He will interact with our grad students, and give an open departmental seminar (Thursday 15 Feb at 4:30pm, Dept. History and Classics). Dr Graheli specializes in the analytic linguistic philosophers of early India, with a special focus on the Kashimirian philosopher Jayanta Bhaṭṭa (fl. ca. 900 CE).
---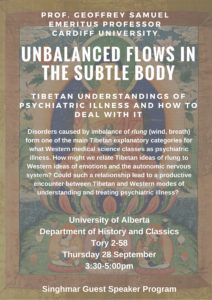 Geoffrey Samuel: "Unbalanced Flows in the Subtle Body"
Disorders caused by rlung-imbalance form one of the main Tibetan explanatory categories for what Western medical science classes as psychiatric illness. Rlung — most often rendered in English as 'wind' — translates the Sanskrit term vāta, one of the three doṣas or pathogenic factors within the Ayurvedic medical tradition, and rlung in this sense is one of the three nyes pa, the Tibetan equivalents of the doṣa.
However, the same Tibetan word, rlung, also translates another Sanskrit term, prāṇa. Prāṇa is often rendered into English as breath, but it refers not just to the process of respiration but to a variety of subtle inner 'flows' within the body. Yogic or meditational practices involving the manipulation and transformation of these internal flows, the so-called rtsa rlung practices, are a key part of the yogic techniques employed by Buddhist Tantric practitioners in Tibet. This has arguably led to a conflation and mutual influence between these two terms in Tibetan thought.
In this paper I introduce rlung disorders in Tibetan medicine, and discuss whether and how we might relate Tibetan ideas of rlung to Western ideas of emotions and the autonomic nervous system. Could such a relationship lead to a productive encounter between Tibetan and Western modes of understanding and treating psychiatric illness?
When: Thursday 28 September 2017, 3:30 – 5:00 pm
Where: Tory Building, 2-58
All welcome
---
Folktales and the Culture of Scribes in Medieval India
Prof. Adheesh Sathaye, Department of Asian Studies at the University of British Columbia will speak at the U of A's Department of History & Classics
on
Thursday, February 9, 2017, at
4:00 – 6:00 PM, in room
2-58 of the HM Tory Building.
**Coffee and snacks provided
​For additional

background to the talk, you may wish to read Prof.

Sathaye's article,

"The Public Life of Sanskrit Manuscripts," in Traces of Words. Art and Calligraphy from Asia, edited by Fuyubi Nakamura. Vancouver, Museum of Anthropology, 2017, pp. 52-65-160.
PDF
.
---
Working With and Across Borders: Symposium
Friday, February 10, 2017, 1:00-5:00PM
3-95, Salter Reading Room, Humanities Centre
Please join this diverse group of scholars and
writers to discuss how borders, hard and soft,
shape our world and our research.
Conversations developing around six featured
presentations will aim to identify intersections
and establish connections across disciplinary,
geographical and temporal boundaries.
No registration required. Come and go as your
schedule permits. ALL WELCOME!
---
A new 100-level course, "History of Science in Ancient and Medieval India" is going through the stages to get on the books for Fall 2017. Put it in your calendar!
---
The Department of History and Classics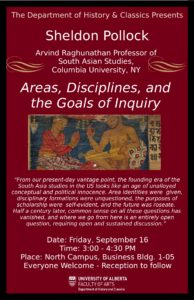 At the invitation of the Department of History and Classics and the Singhmar Chair in Classical Indian Studies:
Areas, Disciplines, and the Goals of Inquiry
Guest lecture by Prof. Sheldon Pollock, Columbia University, NY.
U of A North Campus, Business building, 16 September 2016, 3pm.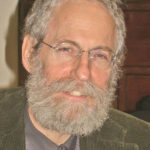 From our present-day vantage point, the founding era of the South Asia studies in the US looks like an age of unalloyed conceptual and political innocence. Area identities were given, disciplinary formations were unquestioned, the purposes of scholarship were self-evident, and the future was roseate. Half a century later, common sense on all these questions has vanished, and where we go from here is an entirely open question, requiring open and sustained discussion.
---
The Department of East Asian Studies
Fu Hao 傅浩, Chinese Academy of Social Sciences, visiting scholar at U of A.
The Application of Indo-European Classic Grammatical Analysis in the Translation of Classic Chinese Poetry
Since Ezra Pound "invented" Chinese poetry for the English-speaking world, as T. S. Eliot said, using Ernest Fenollosa's notes of his Japanese tutors' literal interpretations, the Poundian way of reworking of word-for-word interpretations into logical sentences has been imitated by later generations of translators such as the Poundian scholar Wai-lim Yip, who, however, have more or less neglected the grammatical elements of the words as his predecessors did. Therefore, the first-step interpretations may be misleading and the final results inaccurate. In fact, grammatically, there are much more similarities between classic Chinese and Indo-European languages such as Sanskrit than between modern ones. To apply Sanskrit grammatical analysis to the process of translating classic Chinese poetry into English may result in somewhat better understanding of the original and more accurate renditions.
Thursday, September 15, 3:30-5:00 PM
Pembina Hall 3-04
---
Prof. Ashok Aklujkar, 17 March 2016

---
Dr Philipp Maas, 2 March 2016